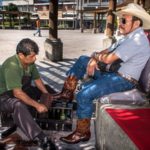 In every sort of job field, work boots have huge importance which cannot be denied. More or less much kind of people havens now begun to realize the fact too. At the present time in the market verities type of work boots available and among from them pull-on work boots have much popularity. Basically, a pull-on work boot is one of the most trustworthy types of footwear.
So after assuming the popularity we have decided to take the best one, namely Ariat waterproof work boots to reviews. Because Ariat is mid of those Brand who preferred a product that suited every kind of working persons. In fact, the brands tirelessly make sure to come up with a solid product. That effectively meets the expectation of their growing customer, including our selected model.
Ariat Men's Workhog Pull-on Waterproof Pro Work Boot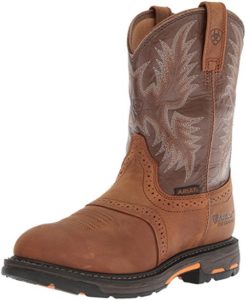 Ariat Men's working pull-on waterproof Pro is one of the best work boots manufacturers by the Company. The brands gain a high reputation because of the product high-quality build and excellent features.  Before full description take a look at the key feature.
A key feature at a glance
Made of full-grain leather
Comes with shock-absorbing gel cushion
Has 90-degree unit heel
Waterproof pro membranes
Heavy Oil and slip-resistant rubber outsole
Patent-pending U-Turn entry system for easy entry
Design
The mentioned model comes with a waterproof design with full-grain leather at upper to the end of the boots. We took oily distressed brown color to present, but they're also some other color option available. So you can take according to your personality or taste. Each pair of the shoe dimension is 12x8x4 inches and contain the weight of more than one pound. Again the traditional cowboy style cuff gives it a classic and stylized look.
Material
Apart from the traditional look the boots made of high-quality material that makes it desirable. They use fine grain leather that keeps it ready for action in any weather. Again the use of rubber outsole is oil and slip resistance that helps you to keep balance on every surface.
Comfort level
At the point of comfort level, the boots surely own your heart. This is basically designed to wear for a long hour without any feeling of discomfort. The use of ATS Max technology makes sure that your legs are always in a comfortable position. In addition, the excellent EVA mid foot and gel cushion feature adds extra comfort level. Furthermore, the waterproof construction help to keep your feet dry no matter the outside atmosphere is.
Fitting capacity
This is a type of boots that can be worn easily by both wider and narrow feet. The wide-open cuffs and gore paneling make it wide enough for every type of person. Again the U-turn entry system gives you a true fit.
Safety and support system
The noticeable feature of the boots is it supports and safety system. In both sorts, the boots work great. The ATS max technology along with stabilizers forefoot and heel give effective support, prevent injury and reduce fatigue. Moreover, shock-absorbing EVA midsole helps to reduce metatarsal stress. Even the boot foot bed comes with a low friction surface that saves your feet from rashes.
Durability
Likewise, all other features the boots are much more durable. The rubber outsole and imported material all made it highly long-lasting. Behind everything, the outsole of the boots has a feature of self-cleaning and non-tracking that again make it durable enough.
Now without further add let's see some pros and cons.
Pros
Having waterproof leather technology
Fashionable and at the same time traditional cowboy design
Water and oil resistance capacity
Able to fight against foot fatigue
Fit well with every kind of feet
Comes with a low friction surface
Different color option available
Cons
No steel toe protection available
Bit expensive
Some complain the boot cannot be used on warm days.
Why pull-on boots regarded as best work boots?
Pull-on work boot now a day become a lovely choice for the men and women and the reasons are defined.
Firstly, most of the pull-on boots are made in such a way that brings ultimate comfort. Pull-on usually used imported material that sustains the comfort level. And in case our mention model is undoubtedly the best one.
Secondly, pull-on boots are great for those who always in a rush to get to the workplace. As the boots allow the user easy put on in any situation without troublesome of laces.
Thirdly, the boots bring ankle support as well as prevent injuries which most of the other work boots can't do.
Some Frequently Asked Questions (FAQ) about pull-on boots
1. Reader question: Pull-on work boots vs. general work boots who is better?
Answer: Well, both working boots are goods from their own perception. It mainly depends on you, what type of job you did and which boots suited for your job place.
2. Reader question: Is pull-on boot easily losing shape?
Answer: Every boot loses shape after day by day use. But yes, as pull-on boots generally have no lacing system, it loses shape first then other lacing working boots.
3. Reader question: Which job sector is best to pull-on boots to use?
Answer: You can use the boots for almost every type of working place. But as some boots are best for someplace the pull-on boots will great matches the job place like unsanitary or contaminated workplaces.
Final words
Overall, Ariat waterproof work boots are definitely a great choice for those who looking boot which can put on easily. Apart from that, though our selected model comes at an expensive price. Meanwhile, it has bundles of useful features. Don't hesitate to buy the boots if you lay-out for something special, fashionable durable and comfortable one. We wrap up with the hope that you got all the information about the particular boots from our article. And direct from here you capable of deciding it is good for you or not.